Mehndi Hai Rachne Wali: Pallavi turns Don to hit Raghav with broom (Upcoming Episode)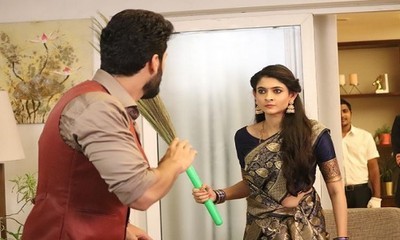 Mehndi Hai Rachne Wali: Pallavi turns Don to hit Raghav with broom
The hilarious nok-jhoks between Raghav and Pallavi are going to spice up in the upcoming episode of Star Plus serial Mehndi Hai Rachne Wali.
Raghav Rao is the Don of Hyderabad but inside Rao Mansion, Pallavi is the only one Don.
Further in the storyline, Raghav and Pallavi are going to have their quirky fight.
However, the moment gets hilarious when Pallavi takes a broom and raises it on him.
Raghav gets scared of Pallavi fierce avatar
The dangerous Raghav Rao gets scared seeing Palavi's such fierce avatar when she raises the broom on him and threatens to beat him with it.
While Farhad and Amma along with the other servants burst into laughter, Pallavi teaches a good lesson to Raghav.
It would be super interesting to watch how soon Pallavi and Raghav will confess their love story.
Make sure you follow us at SerialGossip.com so you don't miss the next big twists.
Latest Mehndi Hai Rachne Wali Updates