Saath Nibhana Saathiya 2: Anant falls in love seeing Gehna in Black Saree (Upcoming Episode)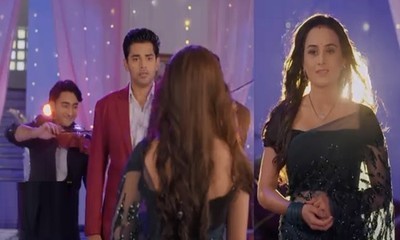 Saath Nibhana Saathiya 2: Anant falls in love seeing Gehna in Black Saree
Star Plus TV serial Saath Nibhana Saathiya 2 is looking forward to Anant and Gehna's love and romance in the air.
Kanak is back in Desai House and it's Pankaj and her wedding anniversary.
The family keeps a grand celebration for Pankaj and Kanak.
Meanwhile, when Gehna comes in a black saree, Anant goes totally spell-bounded seeing her promising look.
This is the first time when Anant gets some strange feelings as he mesmerizingly falls in love with her seeing her beautiful avatar.
Anant and Gehna's romantic dance
Further, Anant holds Gehna's hand and the duos hug each other to share some romantic dance steps.
Anant and Gehna's romantic couple dance is bringing them closer in love with each other.
However, will Anant be able to protect Gehna from Hema's lethal attack is worth watching in the upcoming story.
Make sure you check out the new updates at SerialGossip.com to know more.
Latest Saath Nibhana Saathiya 2 Updates