Udaariyaan: Fateh hard punch to Jasmine trust eye popping twist up (Future Story)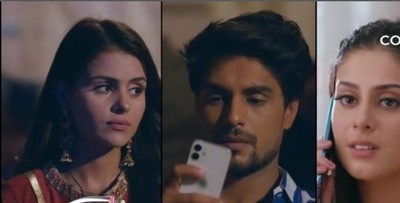 Udaariyaan: Fateh hard punch to Jasmine trust eye popping twist up
Udaariyaan is interesting show telecasted on Colors Tv which is up for some interesting twists and turns ahead where jasmine is showing her full trust over Fateh.
At same, Jasmine is showing her full on hungama forth her friend that Fateh still loves her and cant stay away from her.
Not only this, Jasmine is having strong believe that Fateh can love Tejo and will come to meet her with her one call.
Jasmine invitation to Fateh for meet turned new twist ahead
However where further Fateh gets shocked that Jasmine is leaving her home for some weeks where she wanted to meet him.
Here comes drastic twist where Jasmine gets hard reality check that Fateh has move on with Tejo,
Where Fateh will come definitely but with Tejo and this will surely blow up Jasmine's emotions.
It would be interesting to see what will be reaction and response of Jasmine to this?
To catch stay tuned with us for more updates and exciting twists in other shows too.
Latest Udaariyaan Updates