Barrister Babu: Anirudh failed to stop Bondita marriage falls in deadly trap (Future Story)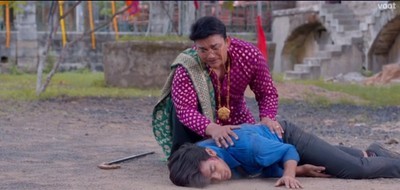 Barrister Babu: Anirudh failed to stop Bondita marriage falls in deadly trap
Barrister Babu is interesting show telecasted on Colors Tv which is up for some interesting twists where Thaku Maa planned Bondita remarriage to take revenge from Anirudh.
Ongoing track of the show, Thaku Maa gets Bondita intoxicated to get her re-married as she is totally aware that Bondita will not accept this.
Where further Anirudh too reached same temple and gets shocked that Bondita unconscious.
Anirudh gets failed saving Bondita faced big punishment
At same Anirudh is also trying to stop Thaku maa from doing Bondita marriage again where goons stopped Anirudh from entering there.
Not only this, Goons attacked Anirudh and beats him badly where Anirudh gets totally unable to stop Bondita marriage and just prays forth god to help.
It would be interesting to see what will be next Twist, how Bondita will handle all this.
To catch stay tuned with us for more updates and exciting twists in other shows too.
Latest Barrister Babu Updates