GHKKPM: Ninad's heart pain turns severe Ashwini restless (Upcoming Episode)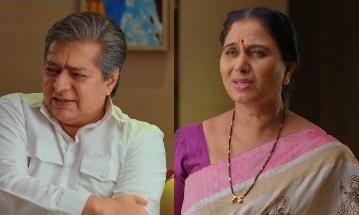 Ghum Hai Kisi Ke Pyaar Mein (GHKKPM): Ninad's heart pain turns severe Ashwini restless
The upcoming episode of Star Plus popular serial Ghum Hai Kisi Ke Pyaar Mein will showcase an interesting twist and turn.
It seems Ashwini is much happy post Virat stops Sayis' exit from Chavhan house.
When she returns to her room she finds Ninad insecure over his heart pain.
Ninad is seen much in pain when Ashwini worries for him and his health.
While Niand is busy blaming Sayi and holds her responsible for his bad health.
Ashwini fails to calm Ninad
Ashwini tries to calm Niand down owing to his health issues while Ninad scolds Ashiwni again and again as he feels he is correct always.
It would be interesting to see what happens next on the show.

Stay tuned to serialgossip.com for more updates.
Latest Ghum Hai Kisi Ke Pyaar Mein Updates