Shaurya Aur Anokhi: Tez dirty game to stop Shaurya Anokhi wedding (Upcoming Episode)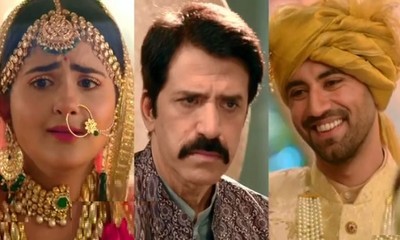 Shaurya Aur Anokhi Ki Kahani: Tez dirty game to stop Shaurya Anokhi wedding
Star Plus prime time show Shaurya Aur Anokhi Ki Kahani is gearing for a high time twist in Shaurya and Anokhi's wedding.
It is seen that how Tez puts a shocking condition before Anokhi to leave Shaurya or he will ruin him.
Anokhi leaves Shaurya's life but Shaurya's strong stand for their love convinces her back.
Shaurya and Anokhi finally get together to fulfill their wedding rituals.
Tez isn't ready to accept his defeat and thus he puts new trouble before Anokhi.
Anokhi into a big dilemma
Shockingly Tez prepones the exam and schedules it for the wedding day.
As soon as Anokhi gets ready as a bride and turns to marry Shaurya, Anokhi gets a huge shocker seeing the exam date notification.
How Anokhi will give the exam or if she will leave Shaurya for her career is worth watching in the storyline.
To know more, make sure you don't miss the next update at SerialGossip.com
Latest Shaurya Aur Anokhi Ki Kahani Updates