GHKKPM: Sayi introduces Ajinkya to piss off Virat (Upcoming Episode)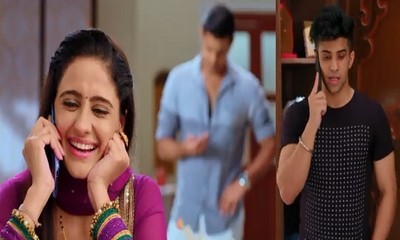 Ghum Hai Kisi Ke Pyaar Mein (GHKKPM): Sayi introduces Ajinkya to piss off Virat
The popular TV show Ghum Hai Kisi Ke Pyaar Mein is gearing up to see Ajinkya spicing up Virat and Sayi's love story.
Virat gets Sayi's ruby pendant back from Bhavani and is super excited to make Sayi wear the same.
However, as soon as he enters the bedroom for the same, he gets super pissed off seeing Sayi talking to her friend.
What hits him hard is when Sayi calls her friend Yaar* and herself Sayi Joshi.
Virat reminds her that she is Sayi Virat Chavan while soon the duos get into an argument.
Virat to find Ajinkya's truth
Sayi teases Virat more when she introduces Ajinkya to Virat.
Virat is already irked knowing about Ajinkya that Sayi adds more fuel by saying that he is her boyfriend.
It would be interesting to watch how Sayi and Virat's love story will spice up after Virat begins his mission to find Ajinkya's truth.
Make sure you follow us at SerialGossip.com so you don't miss the next big twists.
Latest Ghum Hai Kisi Ke Pyaar Mein Updates