GHKKPM: Big Bang Virat turns Sayi's partner in College Function (Latest News)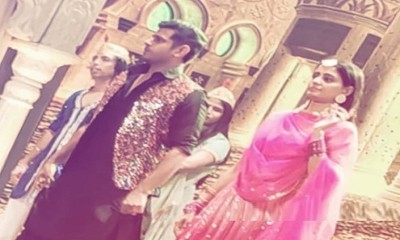 Ghum Hai Kisi Ke Pyaar Mein (GHKKPM): Big Bang Virat turns Sayi's partner in College Function
A very exciting track is line up in the storyline of Ghum Hai Kisi Ke Pyaar Mein.
Virat is super insecure knowing Sayi's friendship with Ajinkya.
While Virat's insecurity and jealousy is intensifying,
A very amazing twist is coming up next wherein Virat joins Sayi in the college function.
Virat and Sayi's big dhamaka
Serial Gossip is bringing you the exclusive look of Virat and Sayi for the upcoming College function.
Sayi's four new friends are also joining her in the function wherein they will spice up Sairat's love chemistry.
So, how romantic and intriguing Virat and Sayi's chemistry in the college function will be and what character Virat is playing with his lady love Sayi,
To know more, make sure you don't miss the next update at SerialGossip.com
Latest Ghum Hai Kisi Ke Pyaar Mein Updates