Ghum Hai Kisi Ke Pyaar Mein: Pakhi make ass of self Sayi laughs (Upcoming Story)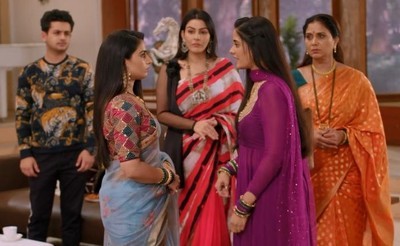 Ghum Hai Kisi Ke Pyaar Mein (GHKKPM): Pakhi make an ass of self Sayi laughs
The upcoming episode of Star Plus popular serial Ghum Hai Kisi Ke Pyaar Mein will showcase an interesting twist and turn.
It was earlier seen that Sayi comes home and as she gets to witness the entire Chavhan family seated together she invited them for her college annual festive.
However Ninad Bhavani refuses to be part of Sayi's college fest.
Pakhi takes up the matter where she states that Sayi was inviting the family in the wrong manner.
This time Sayi has a fitting reply to give it back to Pakhi.
Sayi reminds Pakhi of the way she invited family members for her parent's anniversary by sending messages and also where she forgot someone.
Sayi does not need to take advice from Pakhi to invite family members.
Ashwini supports Sayi and keeps Pakhi at bay
Ashwini supports Sayi where Pakhi makes an ass of self giving a chance for Sayi to laugh.
It would be interesting to see what happens next on the show.

Stay tuned to serialgossip.com for more updates.
Latest Ghum Hai Kisi Ke Pyaar Mein Updates