Shaurya Aur Anokhi: Anokhi's Pehli Rasoi to impress Sabherwals (Latest News)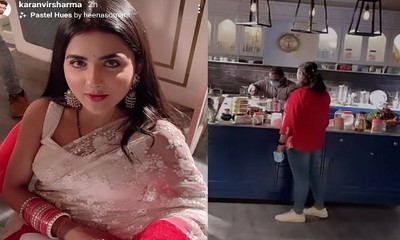 Shaurya Aur Anokhi Ki Kahani: Anokhi's Pehli Rasoi to impress Sabherwals
Your favorite couple Shaurya and Anokhi is entering into their happy marital life in the upcoming latest story of Shaurya Aur Anokhi Ki Kahani.
However, the challenges are not going to end for Anokhi but are going to get tougher for her.
Devi and Tez have surely accepted Shaurya and Anokhi's love but Devi isn't going to get easy on Anokhi.
The major twist comes in the Pehli Rasoi ceremony of Anokhi.
Shaurya and Anokhi's cute moments in kitchen
Here we are posting Anokhi's new look for her Pehli Rasoi ceremony.
Actor Karanvir Sharma shared the glimpse of kitchen and Anokhi from the upcoming Pehli Rasoi ceremony.
How Anokhi will impress the Sabherwals with her Pehli Rasoi and what intriguing twists and turns will come in the story,
To know more, make sure you don't miss the next update at SerialGossip.com
Latest Shaurya Aur Anokhi Ki Kahani Updates