Udaariyaan: Tejo folds hand forth Jasmine gives hard reality check (Future Story)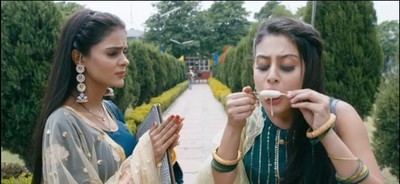 Udaariyaan: Tejo wanted Jasmine to stop all drama of chasing Fateh again
Udaariyaan is interesting show telecasted on Colors Tv which is up for some interesting twists and turns ahead where Fateh and Tejo are together where Jasmine is much irked,
Latest track of showing, Jasmine planned that she will make talk to Fateh so that fateh can realize his mistake and come back.
Not only this, Jasmine stopped him to talk and wanted him to forgive her where Fateh is not even ready to listen to her.
Eyeing all this tejo gets mesmerized eyeing Fateh loyalty for her but at same gets furious that how Jasmine is entering in her relation again and again.
Tejo and Jasmine heated clash ahead over Fateh's love
However where further Tejo confronts Jasmine over same and wanted her to stop all this nuisance where Jasmine has taken chill pill to make Tejo furious.
Later Tejo pleaded forth Jasmine to leave Fateh where later Tejo gives her reality check that Fateh is moving on in his life and soon he will forget her.
And Jasmine over confidence will too get crushed with this.
It would be interesting to see what will be Jasmine's move to separate Fateh and Tejo?
To catch stay tuned with us for more updates and exciting twists in other shows too.
Latest Udaariyaan Updates