Sasural Simar Ka 2: Aarav Simar fall on their knees take drastic step (Upcoming Twist)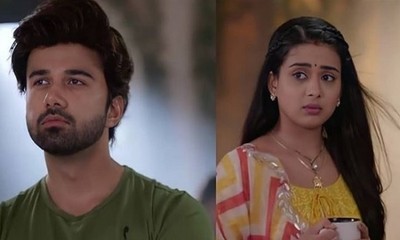 Sasural Simar Ka 2: Aarav Simar fall on their knees take drastic step
Colors popular show Sasural Simar Ka 2 is looking forward to Aarav and Simar's drastic step which will bring a huge change in the storyline.
As per the current scenario, Badi Maa refuses to accept Vivaan and Reema's marriage and locks them separately in rooms as a punishment,
Badi Maa is adamant about her decision of never accepting Reema as Bahu but Aarav and Simar's hopes are still high.
And this is why they take a drastic step the moment they fall on their knees and bend before Badi Maa to accept Reema and Vivaan's marital relationship.
Badi Maa final decision to affect Aarav and Simar's life
Aarav and Simar beg before Badi Maa to bless Reema and Vivaan as a married couple and give them a chance as they can't live without each other.
Though Badi Maa is quite offended by Reema and Simar marrying both of her grandsons,
What Badi Maa decides is what badly affects Aarav and Simar's life because she asks them to sacrifice their marriage if they want Reema and Vivaan's marriage to get her acceptance.
Will Aarav and Simar agree to Badi Maa decision?
Make sure you follow us at SerialGossip.com so you don't miss the next big twists.
Latest Sasural Simar Ka 2 Updates