YRKKH: Ultimate twist in Kartik-Sirat love story revealed (Upcoming Episode)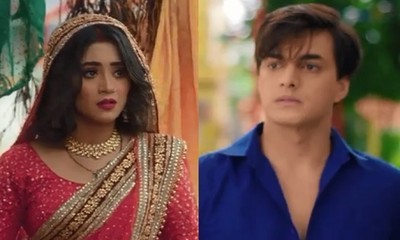 Yeh Rishta Kya Kehlata Hai (YRKKH): Ultimate twist in Kartik-Sirat love story revealed
In the upcoming episode of Star Plus TV serial Yeh Rishta Kya Kehlata Hai, the ultimate twist in Kartik, Sirat, and Ranveer's triangle love story is going to bring a turning point.
Yet now it is seen that how Kartik faces a dilemmatic situation when Ranveer asks him to marry Sirat.
The situation dramatically takes a turn when Ranveer gets hospitalized where his health is deteriorating with every minute.
Now the ultimate twist in Kartik and Sirat's love story is marriage and this is what Ranveer asks from them before he dies.
Kartik and Sirat's wedding in hospital
The upcoming twist is what we don't want you to miss because Ranveer asks for Kartik and Sirat's marriage and that in the hospital before his eyes.
While Kartik and Sirat are still fighting with their own dilemmas,
How they will marry each other for Ranveer's sake is worth watching,
So, make sure you read the new updates at SerialGossip.com
Latest Yeh Rishta Kya Kehlata Hai Updates