KRPKAB 3: Sonakshi stops Ishwari from finding Dev in Ayush (Upcoming Twist)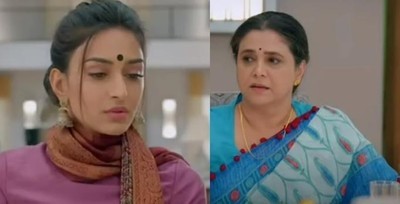 Kuch Rang Pyar Ke Aise Bhi 3 (KRPKAB 3): Sonakshi stops Ishwari from finding Dev in Ayush
The upcoming episode of Star Plus popular serial Kuch Rang Pyar Ke Aise Bhi 3 will showcase an interesting twist and turn.
It was earlier seen that Ayush is part of Ishwari Sadan where he feels much lonely.
Ayush does not like to eat in the new house where Ishwari gets much worried.
Ishwari goes to Ayush's room with the food and forcefully makes Ayush eat where he tries to throw up.
Sonakshi comes on time and stops Ishwari where she asks her not to find Dev in Ayush.
Ishwari angry on Sonakshi's words
Ishwari gets angry on Sonakshi's words where she feels once again she is trying to boast herself.
Will Ishwari obey Sonakshi's words?

It would be interesting to see what happens next on the show.

Stay tuned to serialgossip.com for more updates.
Latest Kuch Rang Pyar Ke Aise Bhi 3 Updates