Ghum Hai Kisikey Pyar Mein: Sayi's hunger out of control (Upcoming Twist)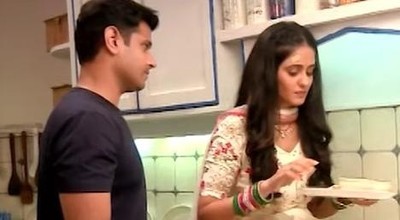 Ghum Hai Kisikey Pyar Mein: Sayi's hunger out of control
The upcoming episode of Ghum Hai Kiskey Pyar Mein is about to showcase interesting twist.
In the coming episode, Sayi breaks the piggy bank and collects money.
Virat wakes up with the sound of piggy bank and starts questioning Sayi. She borrows extra money from Virat.
Later, when Virat is back home he gets a big shock knowing Sayi has not yet reached home.
Virat feeds Sayi with love
Eventually, Sayi will be reach home late night and tell Virat that she is hungry.
Virat gets annoyed at Sayi for not informing him while she asks him to calm down and serve some food.
Meanwhile, Virat makes arrangement of tasty food for Sayi.
Do not miss the next big twist, so make sure to read the new updates only on SerialGossip.com
Latest Ghum Hai Kisi Ke Pyaar Mein Updates