GHKKPM: Pakhi's real talk instigates Sayi against Virat (Upcoming Twist)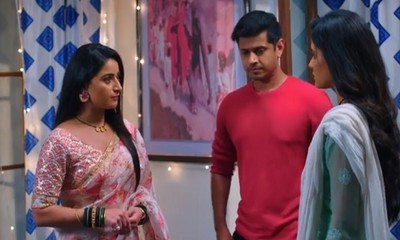 Ghum Hai Kisi Ke Pyaar Mein (GHKKPM): Pakhi's real talk instigates Sayi against Virat
The upcoming episode of Ghum Hai Kisi Ke Pyaar Mein will witness a major showdown between Virat, Sayi, and Pakhi.
Earlier it is seen that how Pakhi eavesdrops on Virat and Sayi's midnight conversation.
Interestingly, Sayi somehow witnesses her and this boils Virat's anger.
Virat takes Pakhi on the radar when Pakhi blames him for ruining her dreams and happiness.
This major showdown doesn't go well because Pakhi takes this as a chance to instigate Sayi against Virat.
Pakhi compels Sayi to never trust Virat as when he betrayed her then he will surely do the same with her.
Virat and Pakhi at odds
Virat is super pissed off at Pakhi's nonsense and thus shuts the door on her face in anger.
While Virat has completely moved on over his past with Pakhi, will Pakhi do something stupid to get her hand on Virat?
Stay up to date with Serialgossip.com for more entertainment news and TV serial twists.
Latest Ghum Hai Kisi Ke Pyaar Mein Updates