GHKKPM: UMEED twist to change Pakhi Virat Sayi's arena (Future Story)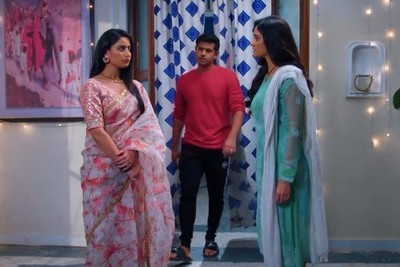 Ghum Hai Kisi Ke Pyaar Mein (GHKKPM): UMEED twist for Pakhi Virat Sayi's arena
The upcoming episode of Star Plus popular serial Ghum Hai Kisi Ke Pyaar Mein will showcase an interesting twist and turn.
It was earlier seen that Pakhi lies to eveas drop outside Virat Sayi's bed room.
Pakhi is in tears when she overhear Virat Sayi's ring talks and their private talks.
Later its late night when Virat close the bed room door when Pakhi is standing out of the door but Virat fails to notice her.
When Virat Sayi were about to sleep they discuss about the pillow and fight.
This too Pakhi hears where Sayi comes to know that Pakhi is standing out of the door and listening to their talks.
Virat asks Pakhi to get away while Sayi talks politely to Pakhi.
Pakhi cries bitterly being insulted by Virat
Where Pakhi informs Sayi not to keep much Umeed from Virat as he changes his mind every now and then.
Sayi understands Pakhi's viewpoint where Sayi has no such hopes from Virat as their marriage is just a deal.
Pakhi cries bitterly as Virat insults her and walk inside the room closes the door on her face.

It would be interesting to see what happens next on the show.

Stay tuned to serialgossip.com for more updates.
Latest Ghum Hai Kisi Ke Pyaar Mein Updates