GHKKPM: Virat catch Pakhi redhanded outside his bedroom (Latest Spoilers Alert)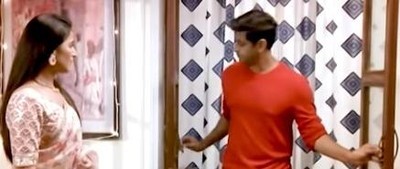 Ghum Hai Kisi Ke Pyaar Mein (GHKKPM): Virat catch Pakhi redhanded outside his bedroom
The upcoming episode of Star Plus popular serial Ghum Hai Kisi Ke Pyaar Mein will showcase an interesting twist and turn.
It was earlier seen that Pakhi was much disappointed with Sayi's birthday celebration planned by Virat.
After everything is done Virat in his bedroom gifts a diamond ring to Sayi and makes her wear the same.
Pakhi gets to overhear their conversation and she stops there.
Pakhi stands to eveas drop as always while this time Virat gets to see Pakhi at the door keeping eye and ear on his conversation with Sayi.
Virat close door on Pakhi's face
Virat do not spare Pakhi this time and close the door on her face.
What will Pakhi do not and how will she exact her revenge on Virat Sayi?

It would be interesting to see what happens next on the show.

Stay tuned to serialgossip.com for more updates.
Latest Ghum Hai Kisi Ke Pyaar Mein Updates