Mehndi Hai Rachne Wali: Raghav in action Mandar turns into psycho lover (Latest Update)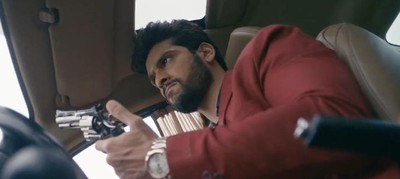 Mehndi Hai Rachne Wali: Raghav in action Mandar turns into psycho lover
The upcoming episode of Star Plus show is about to showcase an interesting twist and turn.
It was earlier seen that Pallavi is about to confess her love to Ragahv while she stops as she finds Mandar there.
Raghav is confused as Pallavi leaves in the middle of their conversation.
Later, Ragahv confronts Pallavi and asks her about what she was saying earlier in the hospital.
Pallavi tells Rahgav that she saw Mandar near the hospital.
Mandar's entry in Pallavi-Raghav's life
In the upcoming episode it will be seen that Mandar will be coming at Raghav's house.
Raghav fumes in anger looking at Mandar where we will get to witness some major fight scene ahead.
Finally Raghav will be seen with a gun in his hand dealing with the new mess in his life.
Mandar will turn into a psycho lover and beat up Ragahv Rao.
Are you excited for the upcoming twist? Stay tuned for more updates only on SerialGossip.com
Latest Mehndi Hai Rachne Wali Updates