Ghum Hai Kisi Ke Pyar Mein: Sayi gets family support Pakhi irked (Upcoming Twist)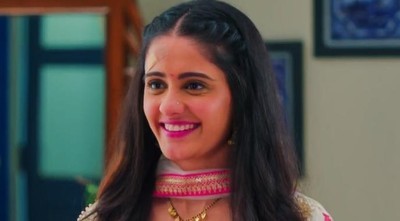 Ghum Hai Kisi Ke Pyar Mein: Sayi gets family support Pakhi irked
Star Plus TV serial Ghum Hai Kisi Ke Pyar Mein is getting interesting with every passing day and we are in awe with Ninad and Sayi's father daughter relationship.
Sayi wins Ninad's heart by gifting him harmonium while Pakhi is shocked to see Sayi getting father like love from Ninad.
Pakhi gets jealous seeing Sayi getting all the attention and love.
On the other hand, Ninad also starts treating Sayi like her daughter which makes Pakhi more furious
In the upcoming episode, Pakhi will again plan to spoil Sayi's image using Ajinkya.
Virat vexed finding Ajinkya in Sayi's room
Ajinkya comes to give notes to Sayi while Pakhi takes the advantage to trap her.
Pakhi tells Ajinkya that Sayi is in her room and asks him to go and give the notes himself.
Soon, Virat comes to know about it from Pakhi and he finds Sayi and Ajinkya together.
How will Virat react to this? Stay tuned for more updates on SerialGossip.com
Latest Ghum Hai Kisi Ke Pyaar Mein Updates