Mehndi Hai Rachne Wali: Pallavi on top of Raghav passionate kiss of love (Upcoming Episode)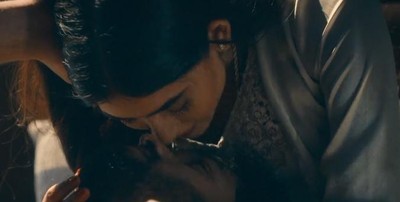 Mehndi Hai Rachne Wali: Pallavi on top of Raghav passionate kiss of love
Exclusive update by Serialgossip.com on an upcoming episode of Star Plus popular serial Mehndi Hai Rachne Wali which will showcase an interesting twist and turn.
It was earlier seen that Raghav and Pallavi are much tensed with Mandar coming between them.
Raghav cannot tolerate Mandar with Pallavi and wants to keep her away from Mandar.
However Mandar wants to claim Pallavi as his wife by hook or by crook and hence he gets the DNA test done.
Raghav Pallavi tensed over their separation
Time gets difficult for Raghav and Pallavi as both loves each other and cannot see separation in their life ahead.
To keep this tense scenario aside Raghav sleeps on Pallavi's lap where Pallavi too comes close to Raghav and shares a passionate forehead kiss.
Will the kiss proceed in their love life?

It would be interesting to see what happens next on the show.

Stay tuned and keep reading our entertainment website serialgossip.com for the latest updates & news, future stories, upcoming twists on your favorite shows.
Latest Mehndi Hai Rachne Wali Updates