Mehndi Hai Rachne Wali: Raghav-Pallavi on date before Mandar's deadly plan (Upcoming Episode)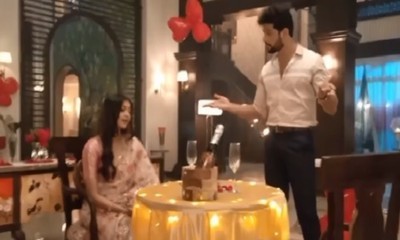 Raghav-Pallavi on date before Mandar's deadly plan in Mehndi Hai Rachne Wali
The beautiful love couple Raghav and Pallavi is going to enjoy their romantic date night in the upcoming episode of Mehndi Hai Rachne Wali.
Raghav and Pallavi both confess their love and give each other the promise of a lifetime.
While Pallavi is blessed to have Raghav, Raghav takes an oath to always protect his lady love.
The duos enjoy their most romantic date night and go lovey-dovey.
However, the duos are completely unaware of what huge storm is about to hit their lives next after this date night.
Mandar's revenge to hit Raghav
Mandar is driven crazy to kill Raghav and snatch Pallavi from him.
Raghav and Pallavi meet Mandar and drop him to the Deshmukh house but are unaware of what deadly plan he is making against them.
Will Raghav and Pallavi be able to fight back Mandar or things will fall drastically?
To know this, you need to follow us at SerialGossip.com for every minute update.c
Latest Mehndi Hai Rachne Wali Updates