Mehndi Hai Rachne Wali: Raghav sits on top of the table to tempt Pallavi (Upcoming Story)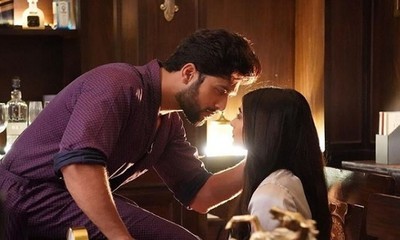 Raghav sits on top of the table to tempt Pallavi in Mehndi Hai Rachne Wali (MHRW)
In your favorite TV show Mehndi Hai Rachne Wali, Raghav and Pallavi are celebrating their love in full swing.
Finally, the duos realized their love for each other and things are getting cozy between them.
Once again, when Pallavi visits Raghav in the library to talk about something,
Raghav goes crazy seeing his lady love in the midnight.
As Pallavi tries to talk seriously, Raghav tempts her the moment he sits on top of the table and caresses her neck.
Raghav and Pallavi's romance at peak before big storm
While Mandar's deadly plan is on the head, poor Raghav and Pallavi get some private to romance and make love with each other.
How Pallavi will protect Raghav and how the duos will fight back Mandar is what you shouldn't miss.
So, make sure you read the new updates at SerialGossip.com
Latest Mehndi Hai Rachne Wali Updates