Dadi Amma Dadi Amma Maan Jao Star Plus show Profile, characters real name, Wiki (Profile)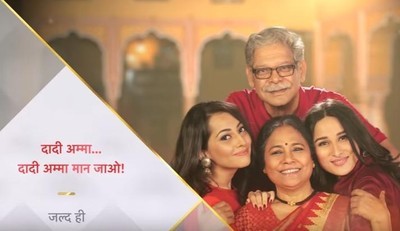 Dadi Amma Dadi Amma Maan Jao Star Plus show Profile, characters real name, Wiki
Serial Name: Dadi Amma Dadi Amma Maan Jao (DADAMJ)
Channel name: Star Plus
Star Cast:
Sheen Dad
Anagha Bhosle
Seema Biswas as Dadi in lead role
Mohan Joshi as Dada in lead role
Khalid Siddiqui
Abhishek Singh Pathania
Ankit Raizada
Shilpa Tulaskar
Sachin Parikh
Sonia Shrivastav
Production House: Rajshri Productions
Genre: Family drama
About Dadi Amma Dadi Amma Maan Jao:
Star Plus is launching one more new show Dadi Amma Dadi Amma Maan Jao with unique concept
The promo of the show has recently been aired on the channel, which surely must have left smile on viewers face.
The shows prime focus will be on Dadi Dada and theirs two granddaughters.
Sheen Das who was last seen in ZEE TV show Piya Albela is roped in show to play the granddaughter along with Anagha Bhosle.
Dadi and Dada's prime role will be essayed by Seema Biswas and Mohan Joshi.
Keep reading for more updates on Dadi and Dada's interesting love story.
Latest Dadi Amma Dadi Amma Maan Jao Updates