Kyun Rishton Mein Katti Batti ZEE TV serial Profile, Wiki, Cast, Characters real name (Profile)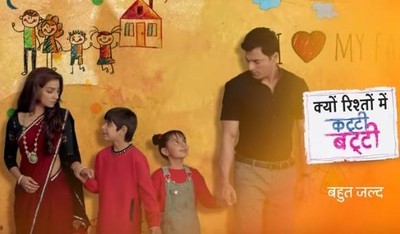 Kyun Rishton Mein Katti Batti ZEE TV serial Profile, Wiki, Cast, Characters real name
Hindi Serial Name: Kyun Rishton Mein Katti Batti
Channel: ZEE TV
Production House: Arvind Babbal
Star Cast:
Neha Marda
Siddhanth Suryavanshi
Sapna Thakur
Genre: Family drama
About Kyun Rishton Mein Katti Batti:
Katti Batti is about the differences faced by married couple after many years of marriage.
And the good thing is that how their kids bring the couple together and keep them united in love.
Neha Marda and Siddhanth Suryavanshi will play the lead role and Sapna Thakur will play the third angle to their love story.
Neha Marda shot to fame with her show Balika Vadu as Gehna followed by Doli Armmano Ki was also seen in Piay Albela in negative role.
Neha Marda's character name is Anjali and is mother to two kids one girl and boy.
Keep reading for more updates on ZEE TV upcoming serial Katti Batti.
Latest Kyon Rishton Mein Katti Batti Updates