KHKT: Rohit Naren's smart escape from Sippy Mansion fooling Nishi (Upcoming Episode)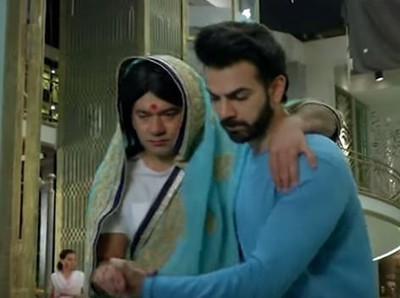 Kahaan Hum Kahaan Tum: Rohit (Karan Grover) and Naren's smart escape from Sippy Mansion fooling Nishi
The upcoming episode of Star Plus serial Kahaan Hum Kahaan Tum will showcase interesting twist and turn.
As per the latest episode it is seen that Nishi decides to kill Rohit and make money from antidote.
However Sonakshi does not allow this and turns Parvati to save Rohit and Sippy family.
Rohit and Sonakshi teams up where entire Sippy family plays Holi and keeps Nishi busy.
On the other side Rohit makes Naren wear saree and takes him out of Sippy Mansion on skates.
Rohit and Sonakshi's (Dipika Kakkar) new master plan
It would be really interesting to see if Nishi comes to know about the same.
Where is Rohit taking Naren and what he is upto?
Keep tuned to serialgossip.com for more updates on Kahaan Hum Kahaan Tum.
Latest Kahaan Hum Kahaan Tum Updates