Yeh Rishtey Hain Pyaar Ke: Abeer's tuladaan ceremony Kuhu's cover for Mishti's absence (Upcoming Twist)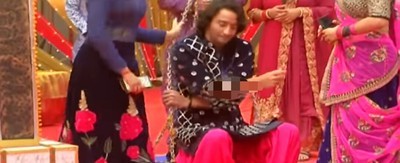 Yeh Rishtey Hain Pyaar Ke: Abeer's (Shaheer Sheikh) tuladaan ceremony, Kuhu's (Kaveri Priyam) cover up for Mishti's absence
Star Plus popular daily soap Yeh Rishtey Hain Pyaar Ke is gearing up for high voltage drama and twist.
Abeer and Mishti's goddhana ceremony is fixed and finally the moment has arrived while Mishti is missing.
Kuhu is all tensed as how Mishti has yet not returned back and Rajvansh family has reaches Maheshwari house.
Kuhu can't let Abeer and Rajvansh family know that Mishti is not at home.
Kuhu's cover up for Mishti
Here Kuhu thus covers up for Mishti's absence and puts up a new rasam of tuladaan.
Abeer had to sit on one side of balance and Maheshwari family will put gifts on other side to balance it.
They will give away the gifts to Abeer's NGO, Kuhu is trying to get more time for Mishti.
Will Mishti return on time and what more dhamaka is awaited ahead.
Latest Yeh Rishtey Hain Pyaar Ke Updates