Yeh Rishtey Hain Pyaar Ke: Mishti's curse turns misery for Meenakshi (Upcoming Twist)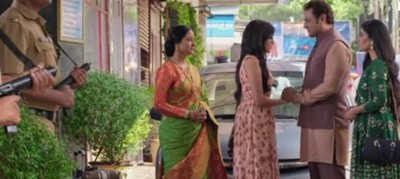 Yeh Rishtey Hain Pyaar Ke: Mishti's (Rhea Sharma) curse turns misery for Meenakshi (Rupal Patel)
Star Plus popular daily soap Yeh Rishtey Hain Pyaar Ke is gearing up for new twist and turn.
Mishti and Abeer's separation is finalized, Abeer refuses to keep any relationship with Mishti.
Abeer makes it clear to Mishti that he has no love in his heart for her.
Mishti is all shattered and thus Vishambhar asks her to go to London and Mishti agrees.
Mishti and Abeer's separation
While here she goes to temple to take God's blessings and here she sees Meenakshi distributing sweets and celebrating her victory.
Mishti is shocked as Meenakshi offers sweets to her as well, Mishti curse Meenakshi that she will lose her both sons and she will soon get it.
Stay tuned for more exciting updates of the upcoming episodes only on serialgossip.com
Latest Yeh Rishtey Hain Pyaar Ke Updates