Kyun Utthe Dil Chhod Aaye: Farooq killed Brij too Uday vows to fulfill promise (Upcoming Twist)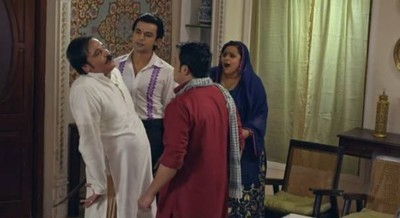 Kyun Utthe Dil Chhod Aaye: Uday and Brij gets into action to save Vashma (Anchal Sahu) against Farooq evilness
Kyun Utthe Dil Chhod Aaye is Sony Entertainment Television's popular daily soap show bringing new twists and dramas in upcoming tracks.
As per ongoing track of the show Vashma and Radha gets into clutches of Abrar and Farooq where Uday gets into action to safeguard duo.
Knowing all this Uday and Brij are in hugger mugger to save Vashma and Amrit from Farooq, amid this Brij major sacrifice is there.
Brij killed by Farooq and Uday in major fix
However amid all this Farooq gets know about Uday and Brij where he killed Brij and Iqbal managed to hide Uday from all.
Not only this, Brij takes major promise from Uday that he will take care of Radha in his absence.
It would be interesting to see what will happen next in show.
Stay Tuned with us for more exciting updates and upcoming twists in the shows.
Latest Kyun Utthe Dil Chhod Aaye Updates