GHKKPM: Harini tagged Devyani pagal refused to call mother (Future Story)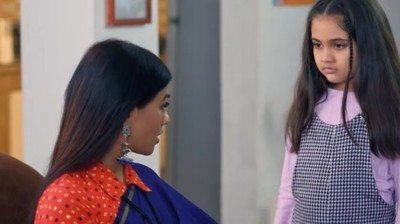 Ghum Hai Kisi Ke Pyaar Mein: Pulkit and Devyani faceoff with Harini truth, new siyapa ahead
Ghum Hai Kisi Ke Pyaar Mein is Indian tv drama which telecasted on Star Plus, where its upcoming track of the show will bring much drama and suspense in the show.
Pulkit and Devyani are happy with each other where later Devyani meets with Harini and in starting duo started fighting for toys.
Amid all this Pulkit is helpless eyeing all this where later Pulkit revealed Devyani that Harini is his and Devyani's daughter making her joyful.
Devyani hurt with Harini behavior toward her
Later Devyani gets much hurt with Harini behavior toward her where Harini refused to accept her as mother and even tagged her as Pagal.
Pulkit is getting helpless over all this where he is trying to manage thing and reconcile things amid Devyani and Harini.
It would be interesting to see what will happen next in the show.
Stay tuned with us for more exciting updates and upcoming twists in the show.
Latest Ghum Hai Kisi Ke Pyaar Mein Updates