Priyanka Chopra goes back to 2005 recalling her song Tinka Tinka from Karam (Bollywood latest gossip)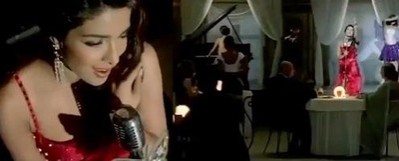 Priyanka Chopra goes back to 2005 recalling her song Tinka Tinka from Karam
Priyanka Chopra taking to the Instagram reveals about her favorite singer while recalling her good old days in Bollywood Cinema.
Captioning the old song video, Priyanka Chopra says 'Tinka Tinka' is a song from one of her earlier films 'Karam' (Deed) which released in 2005. For those who might not know, Hindi Films use playback singers for most actors and she had the fortune to have some amazing singers lend their voice to her films over the years but when this song was released, most thought it was her…but in fact it was the voice of one of her favorite singers Alisha Chinai and she complimented her tone so well.
Priyanka Chopra posted the video song and thanked Alisha Chinai while also mentioned that she is her favorite singer.
Karam hindi film starred Priyanka Chopra and John Abrahim in lead roles.
Priyanka Chopra in The Matrix 4
Priyanka Chopra with hubby Nick Jonas is now in Los Angeles.
Where soon Priyanka Chopra will appear in hollywood movie, The Matrix 4.
Stay tuned with serialgossip.com for more bollywood latest gossip.
Latest Priyanka Chopra Updates