Virat Kohli Anushka Sharma having tussle game with family share promising pics (Latest Trending News)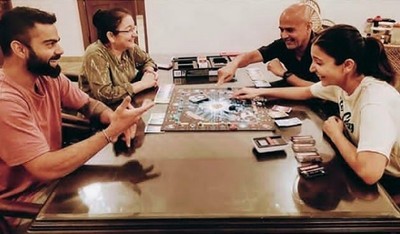 Virat Kohli and Anushka Sharma having tussle game with family share promising pics
Popular celebrity couple Anushka Sharma and Virat Kohli is having a real family time during the quarantine.
Anushka Sharma while taking to her Instagram account shared a family fun glimpse where she is playing Monopoly board game with her hubby Virat Kohli and the in-laws.
Anushka Sharma also talked about how in this crucial time we all have to stay in house and fight against Coronavirus COVID-19.
Anushka Sharma and Virat Sharma also donate to PM Cares Fund to help India fight the critical Coronavirus COVID-19 pandemic.
Anushka Sharma and Virat Kohli couple goals
The couple is always in buzz over their perfect couple goals.
Recently they also shared their 9pm9minutes pehel pic where they enlightened diya supporting Prime Minister Narendra Modi.
Stay tuned to Serialgossip.com for latest trending news.
Latest Virat Kohli Updates