Patiala Babes: Hanuman and Babita struggle to unfold relationship status (Upcoming Twist)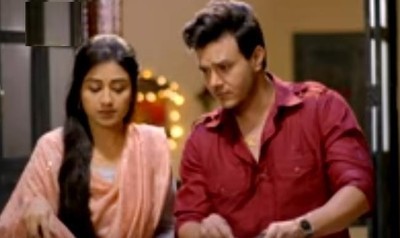 Patiala Babes: Hanuman (Anirudh Dave) and Babita (Paridhi Sharma) struggle to unfold relationship status
As per the latest promo of Sony TV show Patiala Babes Mini (Ashnoor Kaur) is seen reading comments on Babita's cooking blog.
There was some comment stating about Hanuman and Babita's relation as the video consist of both Babita and Hanuman.
Babita gets angry and asks Mini to write her relationship with Hanuman.
Mini smiles cunningly and asks Babita to reveal her relation with Hanuman.
Babita is seen confused and struggles to name her relation with Hanuman.
Hanuman scared to confess love for Babita
On the other side Hanuman also likes Babita but is scared to confess his love.
Hanuman's friend thus asks him to confess love as soon as possible or else he will remain in friend zone.
Stay tuned to serialgossip.com for more updates.
Latest Patiala Babes Updates