Dil Toh Happy Hai Ji: RV forces one-night stand on Happy Rocky on fire (Upcoming Twist)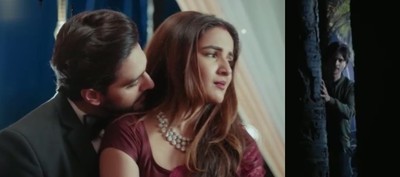 Dil Toh Happy Hai Ji: RV forces one-night stand on Happy Rocky on fire
The coming up episode in Dil Toh Happy Hai Ji will see extreme twists and turns in the storyline.
So far seen how Happy (Jasmin Bhasin) marries RV (Rohit Purohit) for revenge and Rocky (Ansh Bagri) at the end of the day agrees to her plan.
Where RV and Happy come on their honeymoon trip,
RV takes Happy on a romantic dinner date.
And there the evil guy spikes Happy's drink and so on gets romantic with her.
Rocky to fight RV rescuing Happy
RV will force himself on Happy while dancing with her.
Shockingly, Rocky will witness everything from the distance and will get intense furious seeing RV getting intense close to Happy.
Will Rocky save Happy from RV's lust?
Or RV will ruin Happy and Rocky's love by executing his dirty plans?
Stay tune for more coming updates.
Latest Dil Toh Happy Hai Ji Updates