Sanjivani 2: Asha proves Sid innocent Ishani begs for apology (Upcoming Episode)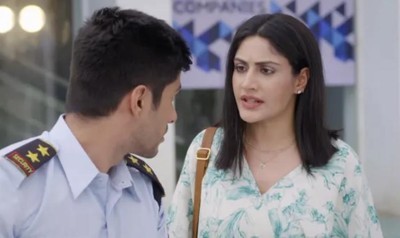 Sanjivani 2: Asha proves Sid (Namit Khanna) innocent Ishani (Surbhi Chandna) begs for apology
The upcoming episode of Star Plus show Sanjivani 2 will showcase interesting twist and turn.
It was earlier seen that Ishani refuses to talk to Sid post misunderstanding him over the posters.
Sid tries to explain Ishani that he did not put the posters but Ishani refuses to believe him.
Dr Asha thus cunningly makes Rishabh vomit the truth about him applying the posters.
Ishani feels guilty hearing the truth where Sid walks away proudly getting a clean chit.
Ishani thus feels bad and runs after Sid begging for an apology.
Sid refuses to accept Ishani's apology
Sid now refuses to talk to her for always misunderstanding him.
Ishani stops Sid and screams aloud that she is sorry but Sid walks away.
Will Sid forgive Ishani for always being rude to him?
Keep tuned to serialgossip.com for more updates on Sanjivani 2.
Latest Sanjivani 2 Updates