Kundali Bhagya: Karan dumps Preeta on road refuses to take her home (Upcoming Twist)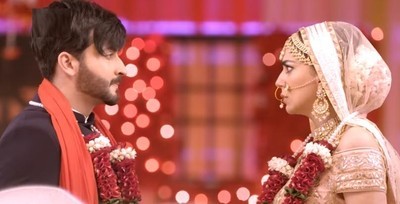 Kundali Bhagya: Karan (Dheeraj Dhooper) dumps Preeta (Shraddha Arya) on road refuses to take her home
The upcoming episode of ZEE TV show Kundali Bhagya will showcase shocking twist and turn.
It was earlier seen that Karan gets married to Preeta.
Post the marriage Karan confesses his love for Preeta leaving her overwhelmed.
Preeta wanted this love confession since very long time as she never loves Prithvi.
Preeta accepts Karan's love proposal and walks away with him.
Post the marriage Preeta sits with Karan in his car who drives the car but leaves Preeta mid way on the road.
Preeta shattered to know Karan's real marriage motive
Karan dumps Preeta revealing his revenge motive leaving Preeta shattered.
It would be really interesting to see what happens next on the show.
Keep reading serialgossip.com for more updates on Kundali Bhagya.
Latest Kundali Bhagya Updates