YRHPK: Abeer bursts at Mishti for joining hands with Meenakshi (Upcoming Episode)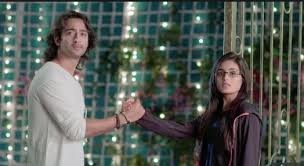 Yeh Rishtey Hain Pyaar Ke: Abeer (Shaheer Sheikh) bursts at Mishti (Rhea Sharma) for joining hands with Meenakshi
Star Plus popular daily soap Yeh Rishtey Hain Pyaar Ke is gearing up for new dhamaka and twist.
Meenakshi seeks Mishti's help to expose Mehul and save her son Abeer.
Meenakshi and Mishti even gets successful as they makes up a perfect team.
Misht reaches her goddhana on time and on other hand Meenakshi gets proof against Mehul.
Abeer bursts at Mishti
Mishti thus exposes Mehul infront of all amid goddhana ceremony, Abeer hears all.
Abeer hears all and her he bursts at Mishti for joining hand with Meenakshi who is not right.
Abeer even shouts at Meenakshi for ruining his and Mishti's relationship with her evil intentions.
Mishti tries to stop Abeer but he is not ready to listen anything, will this situation ruin Abeer and Mishti's relationship.
Stay tuned for more exciting updates of the upcoming episodes only on serialgossip.com
Latest Yeh Rishtey Hain Pyaar Ke Updates