Kahaan Hum Kahaan Tum: Veena stops Rohit's support for broken Sonakshi (Upcoming Twist)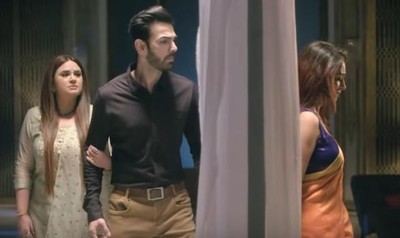 Kahaan Hum Kahaan Tum: Veena stops Rohit's (Karan V Grover) support for broken Sonakshi (Dipika Kakkar)
As per the latest promo of Star Plus show Kahaan Hum Kahaan Tum it is seen that entire Sippy family point fingers on Sonakshi.
Everyone is disappointed with Sonakshi where everyone refuses to trust her.
As Pooja's critical adoption truth gets exposed to media, everyone starts questioning Sippy family.
However Sonakshi tries to explain herself but everyone refuses to believe her.
Sonakshi just takes the blame and walks away.
Rohit decides to support Sonakshi
Rohit follows Sonakshi to stop her where Veena too follows Rohit and stops him.
Will Veena too disbelieve Sonakshi, where Sonakshi always tried to save Sippy's prestige?
Will Rohit trust his beloved wife Sonakshi over the rumors?
Stay tuned and keep reading serialgossip,com for more updates.
Latest Kahaan Hum Kahaan Tum Updates