Patiala Babes: Arya's efforts adds twist of romance in Neil Minni's life (Upcoming Twist)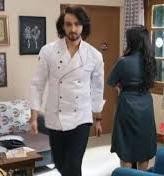 Patiala Babes: Arya's (Saisha Bajaj) efforts adds twist of romance in Neil (Sourabh Raj Jain),Minni's life
Sony Entertainment Television popular daily soap Patiala Babes is gearing up for new twist and drama.
Arya is seeing Neil and Minni's relationship in different angle and things are going to soon change.
Neil and Minni are completely against each other and leaves no opportunity to fight and do argument.
While Arya will add tadka of love, here Arya will try her cute efforts to get Neil and Minni closer.
Arya's efforts adds twist of romance
Arya will take small and small moments where she try to get Minni closer to Neil and here she takes Nayeem Bi's help.
Arya's all these efforts are going to cook bigger syappa of love amid Neil and Minni.
Neil and Minni's love story will go through major complications and will they be able to win this battle.
Stay tuned for more exciting updates of the upcoming episodes only on serialgossip.com
Latest Patiala Babes Updates