Sanjivani 2: Vardhan traps Anjali in the luxury ward scam Sid Ishani shocked (Upcoming Story)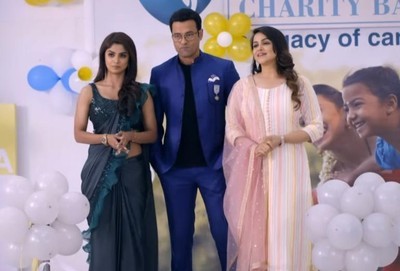 Sanjivani 2: Vardhan (Rohit Roy) traps Anjali (Sayantani Ghosh) in the luxury ward scam Sid (Namit Khanna) Ishani (Surbhi Chandna) shocked
Star Plus show Sanjivani 2 will showcase interesting twist and turn.
It was earlier seen that Sid and Ishani reach luxury ward only to know shocking details about Vardhan.
Sid and Ishani pitty for pregnant ladies who are kept in a bad way and decides to expose Vardhan.
But Vardhan turns the table where he holds Anjali responsible for the big scam.
Anjali gets traped in Vardhan's big game and feels bad for the same.
Sid and Ishani gets big task to save Anjali
It would be realty interesting to see what happens next on the show.
How will Sid and Ishani save Anjali from big scam done by Vardhan?
Let's wait and watch for the upcoming twist.
Latest Sanjivani 2 Updates