Kundali Bhagya: Karan's senseless sacrifice to break Preeta's heart (Upcoming Twist)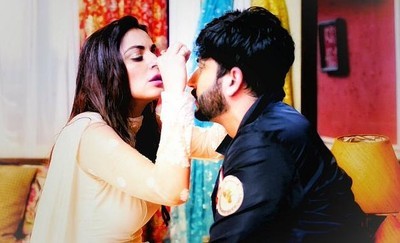 Kundali Bhagya: Karan's (Dheeraj Dhooper) senseless sacrifice to break Preeta's (Shraddha Arya) heart
The upcoming episode of ZEE TV series Kundali Bhagya will showcase shocking twist and turn.
It was earlier seen that Karan has realized his love for Preeta and hence wants to save her life anyhow.
Karan thus cracks a deal with Mahira to marry her and free Preeta.
Mahira accepts the deal with a cunning plan in mind.
Mahira decides to marry Karan and trick him keeping Preeta behind bars only.
Preeta gets shattered hearing Karan Mahira's ongoing marriage news
On the other side Preeta has high hopes that Karan will free her and accept her as his wife leaving Mahira.
But Preeta is going to get broken badly being unaware about Karan's deal.
It would be really interesting to see what happens next on the show.
Stay tuned to online entertainment news website serialgossip.com for further development.
Latest Kundali Bhagya Updates