Patiala Babes: Mini realizes love for Neil Arya pulls her leg (Upcoming Episode)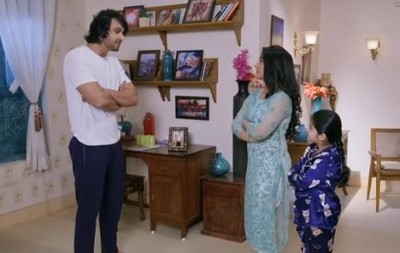 Patiala Babes: Mini (Ashnoor Kaur) realizes love for Neil (Sourabh Jain) Arya (Saisha Bajaj) pulls her leg
Mini realizes love for Neil Arya pulls her leg in the upcoming episode of Sony TV serial Patiala Babes.
It seems Arya and Mini love to spend time together and hence the duo keeps on fighting.
Mini and Arya have pillow fight sharing their love feelings for each other.
Later Arya tries to escape when Mini throws pillow and the same falls on Neil when he enters.
Neil and Mini gets into an uncalled romantic moment which gets mesmerized and highlighted by Arya.
Arya happy for Neil and Mini's love story
Arya understands that Mini has started liking Neil and is falling in love.
Neil and Mini will soon realize the love feelings while Arya pulls Mini's legs teasing her with Neil.
Will Mini accept her love feelings for Neil?
Keep reading serialgossip.com for further development.
Latest Patiala Babes Updates