KHKT: Sonakshi uncomfortable with Sumit's touch of love regretful Rohit (Upcoming Episode)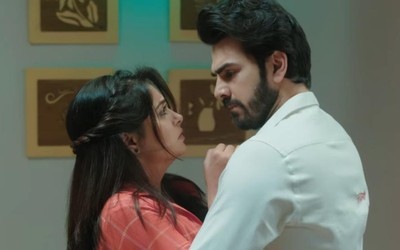 Kahaan Hum Kahaan Tum: Sonakshi (Dipika Kakkar) uncomfortable with Sumit's touch of love regretful Rohit (Karan Grover)
The upcoming episode of Star Plus serial Kahaan Hum Kahaan Tum will showcase interesting twist and turn.
It was earlier seen that Rohit wants to keep Sonakshi away from him just to keep her problem free.
Further Rohit keeps on insulting Sonakshi so that she decides to move on with Sumit.
Rohit requests Sumit to accept Sonakshi's marriage proposal and keep her happy.
On the other side Sonakshi too decides to marry Sumit and live happily.
However when Sonakshi gets close to Sumit she feels uncomfortable with Sumit's touch.
Rohit learns about Sonakshi's love only for him and not Sumit
Rohit also gets to witness the same and regrets the current situation.
Rohit knows that Sonakshi still loves him and wants to forget him.
Will Sonakshi be able to move on with Sumit wholeheartedly?
Let's wait and watch for the next twist in Kahaan Hum Kahaan Tum.
Latest Kahaan Hum Kahaan Tum Updates