Negativeness triggered Sonam Kapoor turned comments off, deleted latest post again (Latest Update)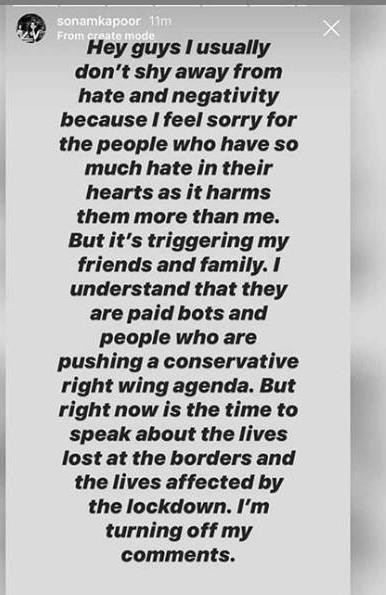 Sonam Kapoor trolled by netizens for supporting nepotism in bollywood
Post Sushant Singh Rajput's demise everyone is saying that producers and directors prefer star Kids where someone struggling to enter in industry is pushed back.
Also, Sonam Kapoor tweeted ," Blaming a girlfriend, ex-girlfriend, family and colleague is ignorant and fucking mean spirited".
Owing to her post everyone got filled with anger where netizens trolled her for being spokesperson of nepotism in bollywood.
Sonam Kapoor got triggered by negativeness by people
Amid all this Sonam Kapoor got triggered by all the negativity she is getting in her comment box where further she added post on instagram saying," Hey Guys I usually don't shy away from hate and negativity because I feel sorry for the people who have so much hate in their hearts as it harms them more than me, but it is triggering my family and friends, I understand that they are paid bots and people who are pushing a conservative right wing agenda, but right now is the time to speak about the lives lost at borders and the lives affected by lockdown, I'm turning off my comments".
Again Sonam Kapoor negative comments about Sushant Singh Rajput and turned her comments off and after that also deleted the post.
Stay tuned with us for more exciting updates and upcoming news.
Latest Sushant Singh Rajput Updates