Deepika Padukone's Repeat After Me gets slammed in comments (Bollywood latest gossip)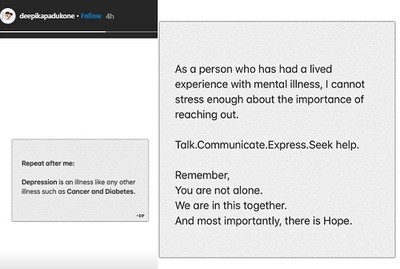 Deepika Padukone asking Fans to repeat after her gets slammed in comments
Bollywood actress Deepika Padukone is getting too much hate on her social media after she posted an IG story.
Deepika Padukone posted a story where the post says 'Repeat After Me: Depression is an illness like any other illness such as Cancer and Diabetes'.
However Deepika Padukone posted the post on her IG story but she is getting slammed in her comments on her recent post.
Some people are commenting hate for Ranveer Singh and claiming he destroyed Sushant Singh Rajput's career while some are taunting Deepika Padukone as she herself once refused to work with Sushant Singh Rajput.
To be noted, Sushant Singh Rajput was first approached for Bajirao Mastani and Ramleela films where later Ranveer Singh replaced him.
The fans have now turned against Deepika Padukone and questioning her if she feels shame in posting Sushant Singh Rajput's single picture.
The more you go deep the more hate Deepika Padukone is getting in her comment section while the fans are also slamming her on her 'repeat after me' tagline.
Deepika Padukone on depression
Deepika Padukone herself has been a victim of depression where she recently posted a guide on mental health awareness.
Stay tuned with serialgossip.com for latest updates and latest news.
Latest Deepika Padukone Updates