Sushant Singh Rajput, only Indian actor who owned land on moon, check details (Latest Update)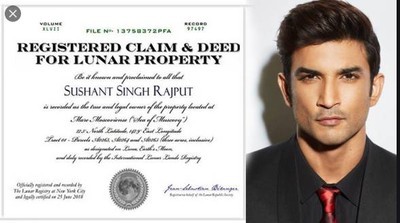 Sushant Singh Rajput's love for science and passion for space
The sudden demise of Sushant Singh Rajput has left the film industry and people , leaving everyone in major shock.
Amid all this many facts related to Sushant Singh Rajput came ahead where everyone is aware that Sushant Singh Rajput was scientist by brain and loved physics.
Actor used to talk about stars, the moon and the sun and other planets, for which even he owned a high magnification telescope and liked to discuss observations and experiments on his social media.
But his passion and love for space studies did not ended here as he used to explore new planets and liked to see rings.
Sushant Singh Rajput owned land on Moon
As per latest resources it is heard that Sushant Singh Rajput also owned land on moon where he is only Indian actor who owned land on Moon.
In the region named Mare Muscoviense or the 'Sea of Muscovy', he bought the property from the international Lunar Registry.
However, before Sushant Singh , Shah Rukh Khan was gifted a piece of land on the ,moon by fan.
Stay tuned with us for more updates
Trending:
Latest Sushant Singh Rajput Updates