Sushant Rajput once confessed GF Rhea,I can be killed if i have relationship with you! (Latest Update)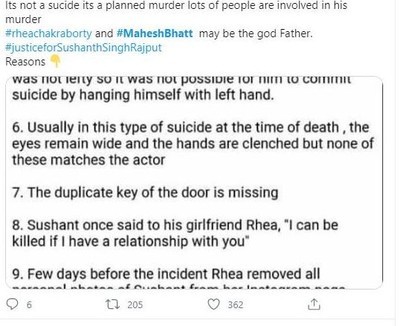 Actor Sushant Singh Rajput and Rhea Chakraborty's relation with negative side out
Sushant Singh Rajput and his rumored girlfriend Rhea Chakraborty were in news for dating each other but couple never gave any official statement over the same.
Whenever anyone asked them about their relation they just said that they are just friends, but theur outings , dinner dates were enough to leave everyone with the clue that they were more than friends.
Amid all this entire social media is circulating with the news where netizens found old video and confession of Sushant Sigh Rajput.
Mahesh Batt and Rhea Chakraborty are in news, Nerizens are eager to find real culprit
However apart from all this, it is heard through grapevine that once Sushant Singh Rajput confessed that I will be killed if I have relationship with you to Gf Rhea Chakraborty.
Entire social media is just shouting over the Rhea and Mahesh Bhatt while there are no confirmations over the same.
Stay tuned with Serial Gossip.com for more exciting updates and latest news.
Latest Sushant Singh Rajput Updates