Netizens dig out old videos, proved KRK is Sushant Singh Rajput's real culprit being puppet (Latest Update)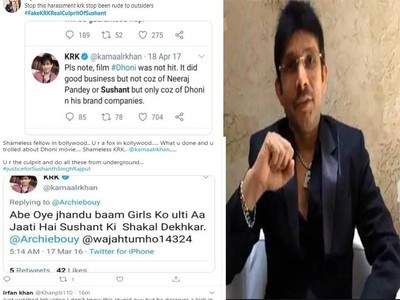 Netizens dig out old videos, proved KRK is Sushant Singh Rajput's real culprit being puppet
Kamaal R Khan dragged by netizens as they got all old videos where he was humiliating Sushant
As things are getting out of hands and netizens are demanding the justice for Sushant Singh Rajput.
Bollywood is also showing concern over Sushant Singh Rajput's death but somewhere everyone is aware that bollywood gave much depression to Sushant which led to his death.
Kamaal R Khan exposed 6 companies who control entire bollywood
Where further Kaam R Khan also tweeted that ," bollywood never helps anyone, this is the place where you have to deal with all your problems while dealing with other issues.
Amid all this Netizens also dig out the old videos where KRK was humiliating Sushant and also said that Dhoni got popularity because its brand not because of Sushant Singh Rajput, it all make Sushant broken.
Everyone over internet is saying that KRK is real culprit of SSR as he is also puppet of Karan Johar and other companies.
Stay Tuned with Serial Gossip.com for more exciting updates and upcoming twists in shows.
Latest Sushant Singh Rajput Updates