Shocking clues, CCTV shut down a night before Sushant death, Hooting sound heard (Latest Update)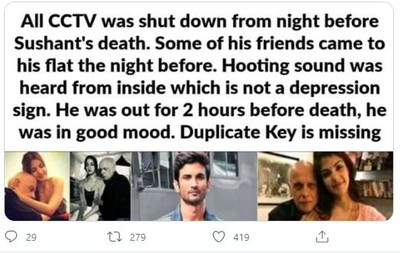 Shocking clues, CCTV shut down a night before Sushant death, Hooting sound heard
Sushant Singh Rajput's demise turned mystery whether suicide or murder
The sudden demise of Sushant Singh Rajput has left the film industry and people , leaving everyone in major shock.
Amid all this many facts related to Sushant Singh Rajput came ahead where everyone is aware that Sushant Singh Rajput was fun loved and joyful person.
Sushant Singh Rajput's suicide was pre planned murder
However amid all this as per recent resources another news Is there that a night before Sushant's death his house's all CCTV shut down,
Also Hooting sounds was heard as some of his friends came to meet him, and obvious he was not in depression,
He was out for 2 hours before death and also duplicate keys are missing.
Everyone over social media is circulating this news and making it viral that Sushant was all okay and his death was pre planned murder.
Stay tuned with us for more updates
Latest Sushant Singh Rajput Updates