Mumbai Police hand on Sushant Singh Rajput's twitter account post big clue (Latest Update)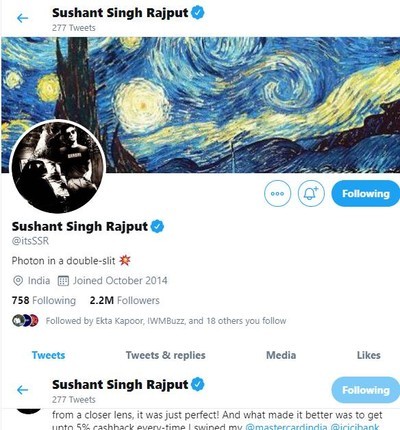 Sushant Singh Rajput's hint of mental stress over him, posted tweets
Sushant Singh Rajput died on 14 June, 2020 but everyone on the social media and industry is up to find the real culprits.
Amid all this shocking news came ahead where Sushant Rajput shared tweets about his mental stress over twitter and later deleted, but somehow those screenshot are recovered.
Sushant Singh Rajput's tweets deleted, police to investigate
"I'm ending all this for Good, going far yet so close to you people, maybe after this people try to communicate with others rather than holding onto the thoughts, see ya at the other side, Goodbye".
These kind of tweets came ahead where Mumbai Police messaged twitter to get the deleted tweets and other messages as if these tweets were real and deleted then Police will get all clues soon.
Hopefully after investigation, real culprits of Sushant Singh Rajput will came ahead.
Stay tuned with us for more updates and latest news.
Latest Sushant Singh Rajput Updates